InForm Design Wins Big at 2021 Industry Awards
InForm Design won big at the 2021 International Interior Design Association (IIDA) Hawai'i Pacific Chapter Hoʻohuli Awards, receiving four awards, including the prestigious People's Choice Award! InForm was also the most winning design firm in this year's competition.
The IIDA Hawaiʻi Pacific Chapter's Ho'ohuli Awards honor outstanding and original commercial interior design in Hawaiʻi, promote the value of Hawaiʻi designers, and perpetuate the interior design profession.
Two InForm projects were also honored by the Building Industry Association of Hawaiʻi in its annual Design and Construction Awards. Sponsored by BIA-Hawaiʻi and the National Kitchen & Bath Association Aloha Chapter (NKBA), the Building Industry Design and Construction Awards recognize the diversity and excellence in quality construction and design of new and remodeled projects.
The awards are a testament to our commitment to create engaging and impactful design for our client and community. We thank our clients who put their trust in our team to bring their visions to life, as well as to the many partners who we worked with on these projects.
Aloha Beer Downtown – IIDA Ho'ohuli Awards Against All Odds and People's Choice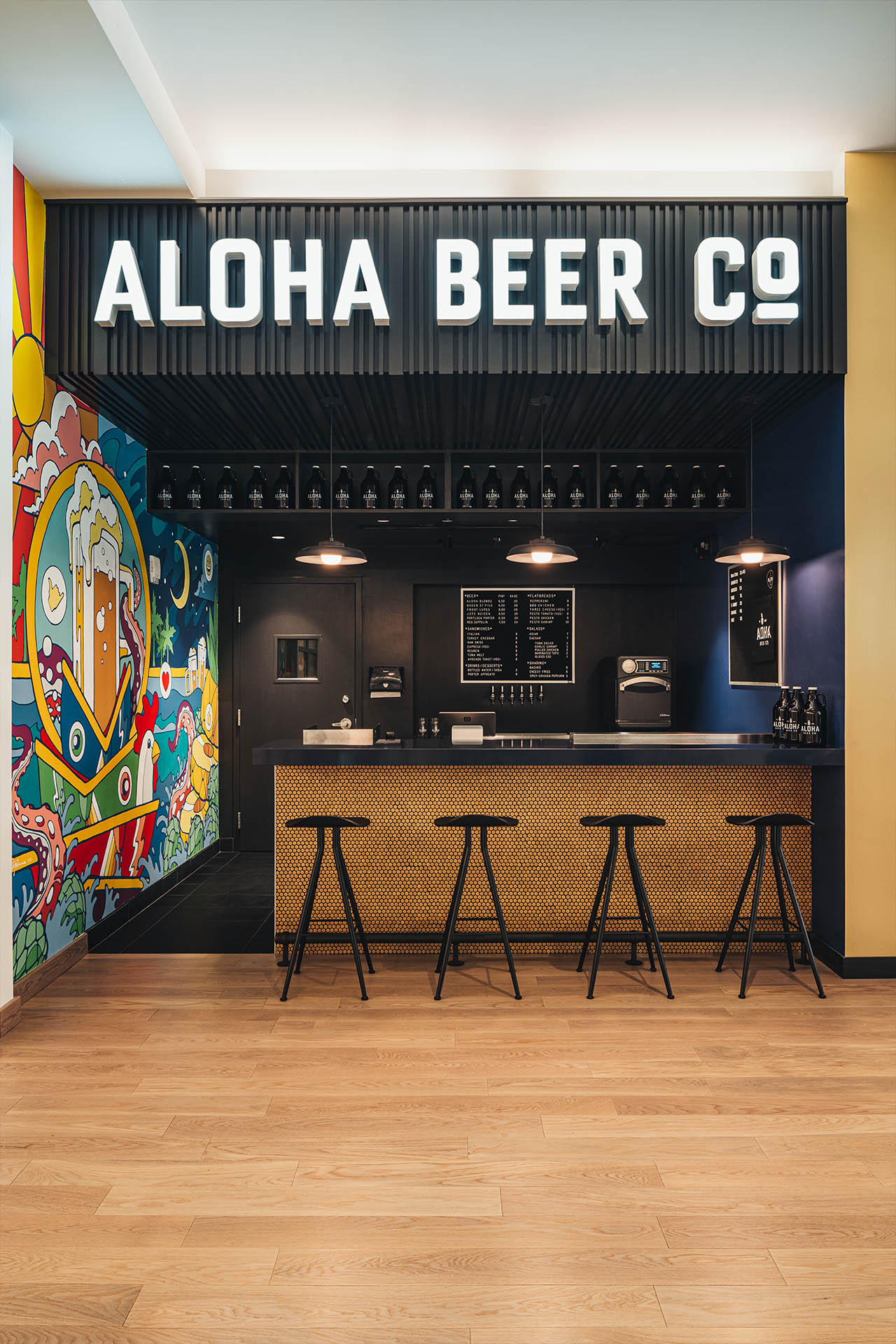 The Aloha Beer Downtown design is a creatively led concept centered around local art that whimsically captures its brand evolution. Despite the restaurant's small footprint, InForm successfully created a high-impact architectural expression that piques interest with limited wall space. Anchored by a striking vibrant wall mural, the compact kiosk is the visual voice of the Aloha Beer Co. brand and creates an eye-catching retro experience for customers and passersby.
Juror's Remarks
"Aloha Beer Downtown is a wonderful piece of Art.
"The space is fun, welcoming and very well-branded through art and creativity that felt like
it was part of the city and area it was in."
"The use of materials and the big beautiful graphic was successful in pulling your eye to the
back corner, which was one of the team's design objectives. That coupled with the
attention to detail made it a winning proposition."
Hana Koa Brewing Co. – IIDA Ho'ohuli Award Shop Category
InForm Design repurposed a dilapidated 10,000 square-foot warehouse in Kaka'ako area into a gleaming new production brewery, restaurant and bar for Hana Koa Brewing Co. The design team honored Kaka'ako's working culture and history by preserving and celebrating its industrial roots while providing a layer of comfort and familiarity.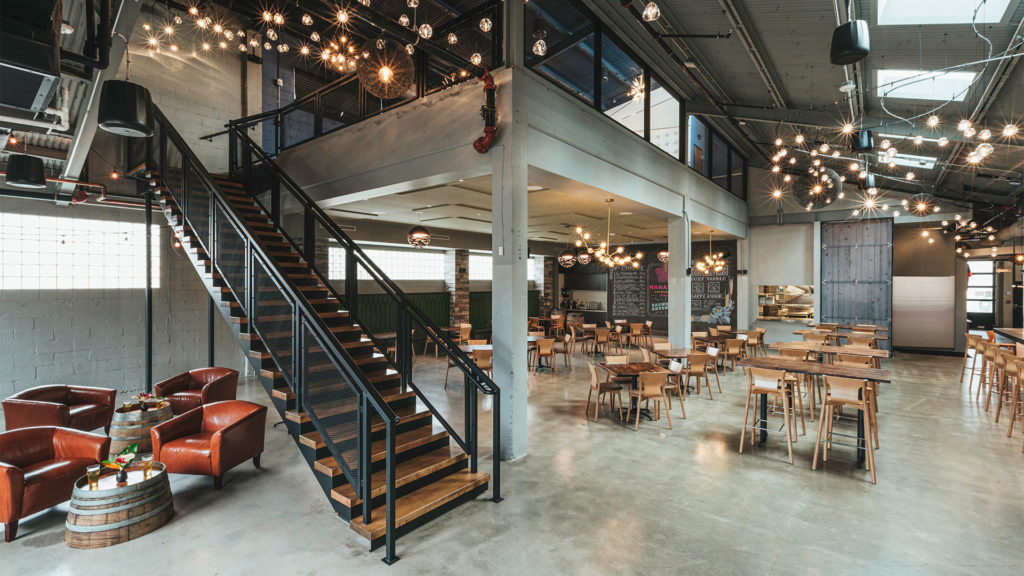 Juror's Remarks
"Hana Koa Brewing had an industrial elegance that carried relentlessly throughout the
space, yet took into account how the different spaces would be appointed and each
space was designed to be slightly unique."
"The project was well-branded and a fun, open double-height explosion of space."
"When you walk into the space, you know exactly where you are. Identity and brand
shine brightly in this space."
Ala Moana Hotel – IIDA Ho'ohuli Award Play Category
For Ala Moana Hotel's 50th anniversary, InForm Design modernized the common areas and third-floor pool deck in a timeless expression of Hawai'i. In the newly renovated lobby, guests are welcomed by the wood barrel vaulted ceiling, constellation inspired large woven chandelier, new furniture, and a 60-foot-long three-panel mural depicting the islands' vibrant flora and fauna. The contemporary design aesthetic extends to the refreshed third floor pool deck, with its chaise lounge chairs, covered daybeds and fire pit lounge seating.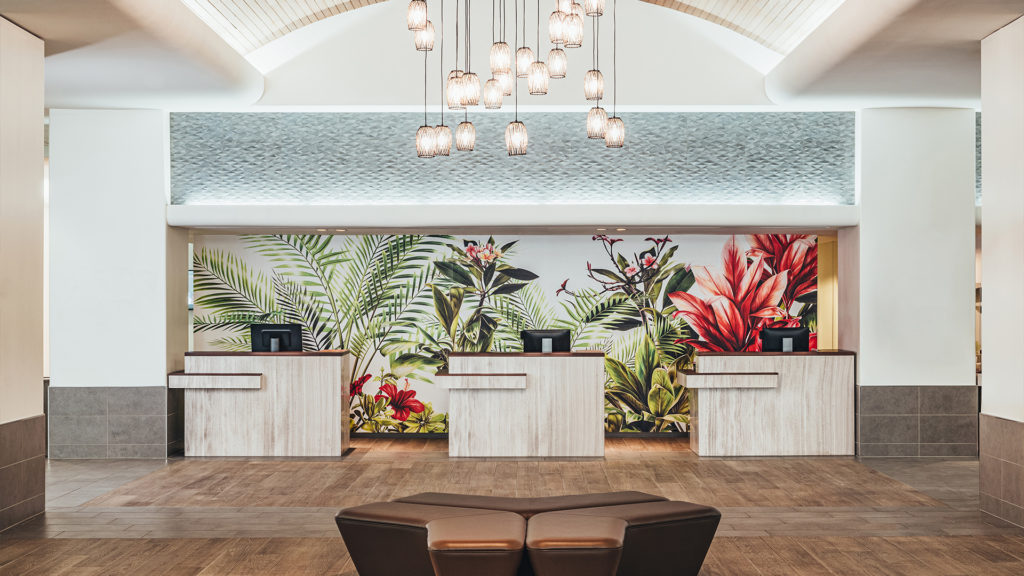 American Savings Bank, Kalihi Branch – BIA Grand Award, New Commercial Project Under 7,500 Square Feet
The newly constructed two-story ASB Kalihi Branch is the embodiment of conventional and progressive style, serving as a forerunner in modern banking design. The distinctive butterfly roof makes a bold statement and allows for high clerestory windows to provide maximum natural lighting into the double height lobby space, while the inverted slopes of the roof conceal dozens of solar panels from view. The innovative strategies to creatively camouflage equipment prioritize efficiency and design.
Na Lei Hulu Kupuna by Mark Development – BIA Grand Award, Affordable Multi-Family Development Under $999,001
Located in Kaka'ako, Na Lei Hulu Kupuna is a five-story residential building with 75 studio rental units for seniors under the Low-Income Housing Tax Credit Program and State Rental Assistance. Interior and exterior improvements included new flooring and wall treatment, cabinetry and furniture, as well as decorative wood-grain aluminum trims, gates and trellis.