ALA MOANA HOTEL BY MANTRA
In celebration of its 50th anniversary, the Ala Moana Hotel by Mantra embarked on a total modernization of its main common areas and spacious third floor pool deck, combining mid-century modern and tropical design styles resulting in a timeless expression of Hawaiʻi.
CLIENT: Ala Moana Hotel | By Mantra
LOCATION: Honolulu, HI
BUILDING AREA: 78,520 SqFt.
COMPLETED: 2021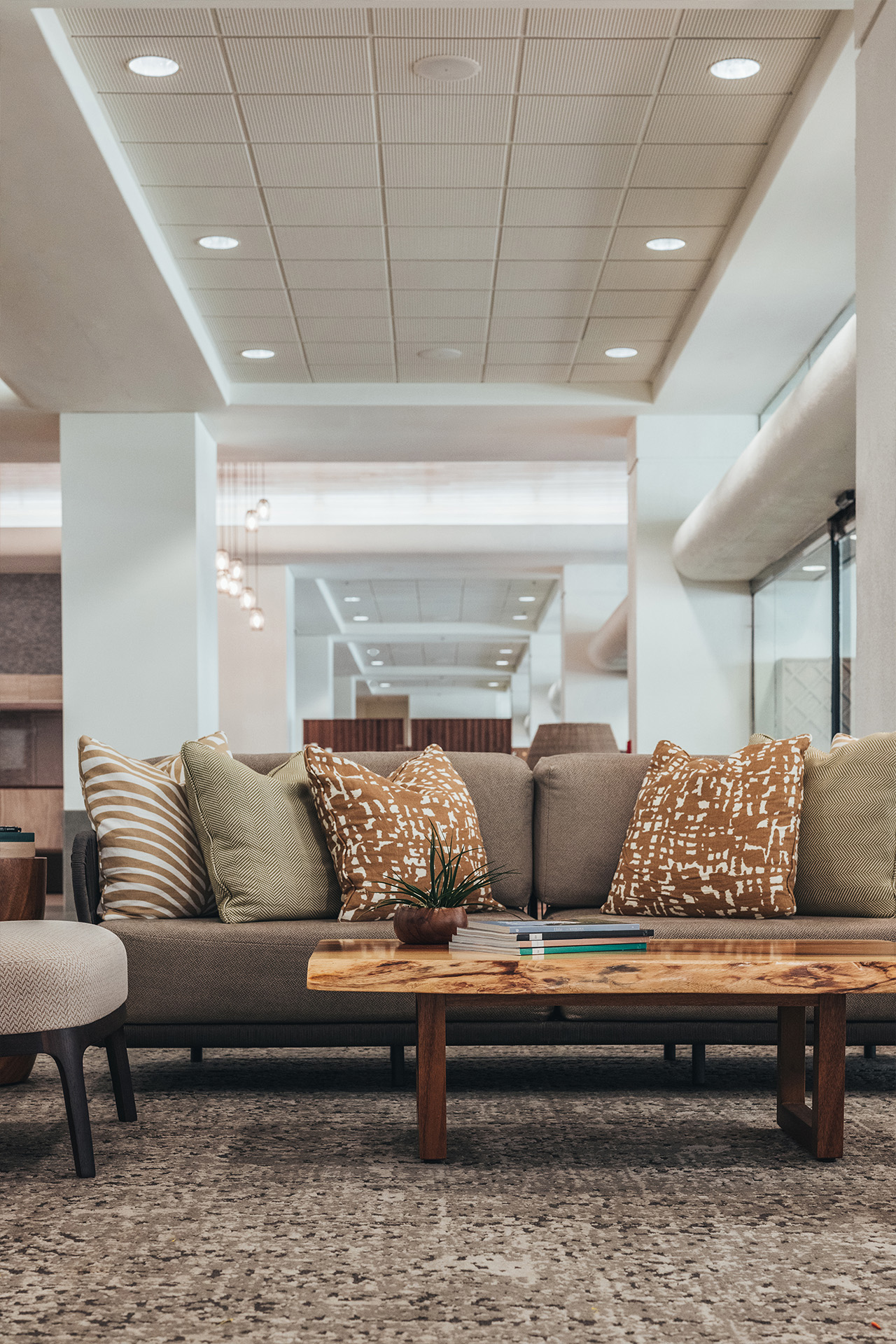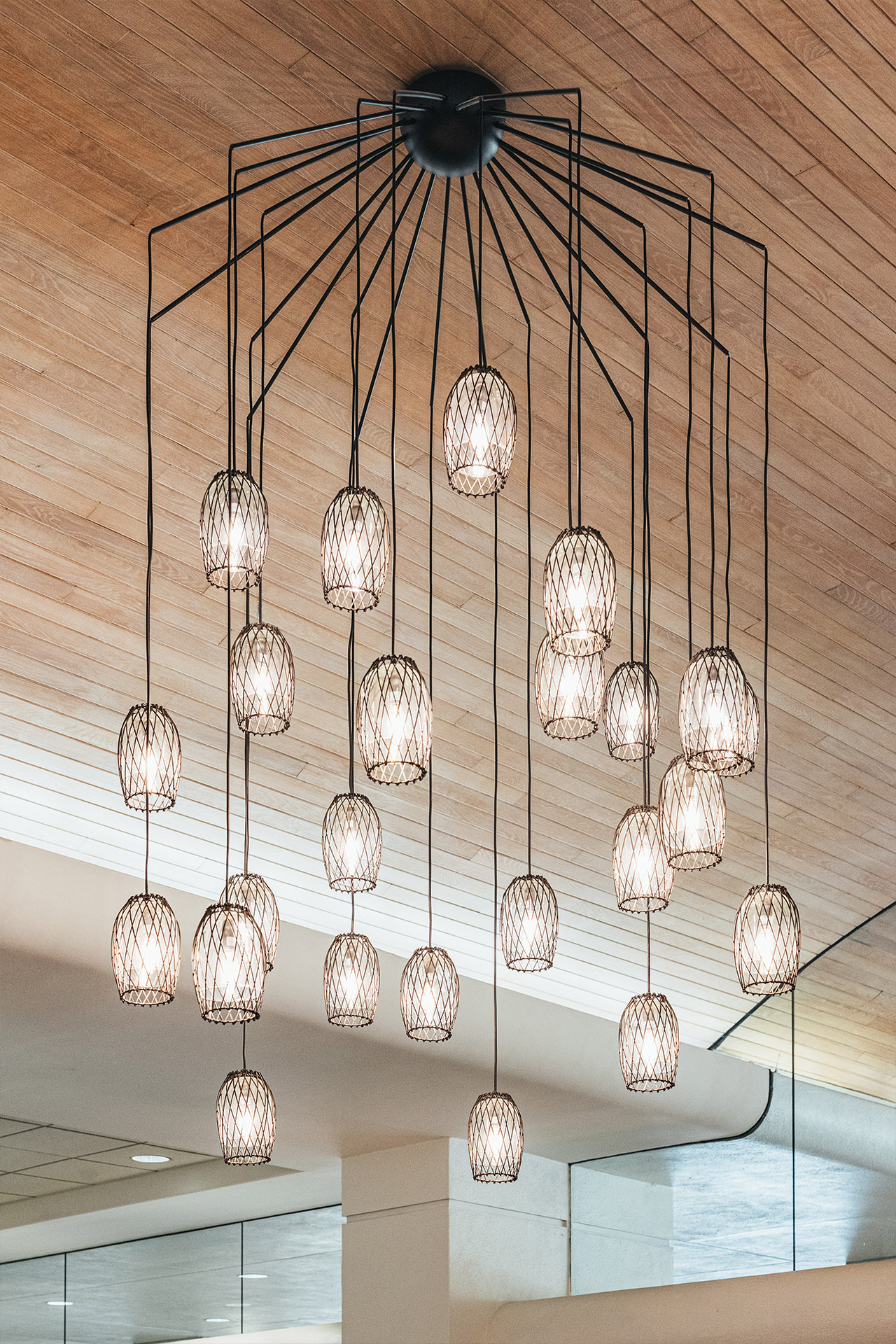 "Our guests are particularly enjoying the new pool deck experience and the hotel team are so proud of their new work environment. The new renovations are most certainly attracting people to the Ala Moana Hotel."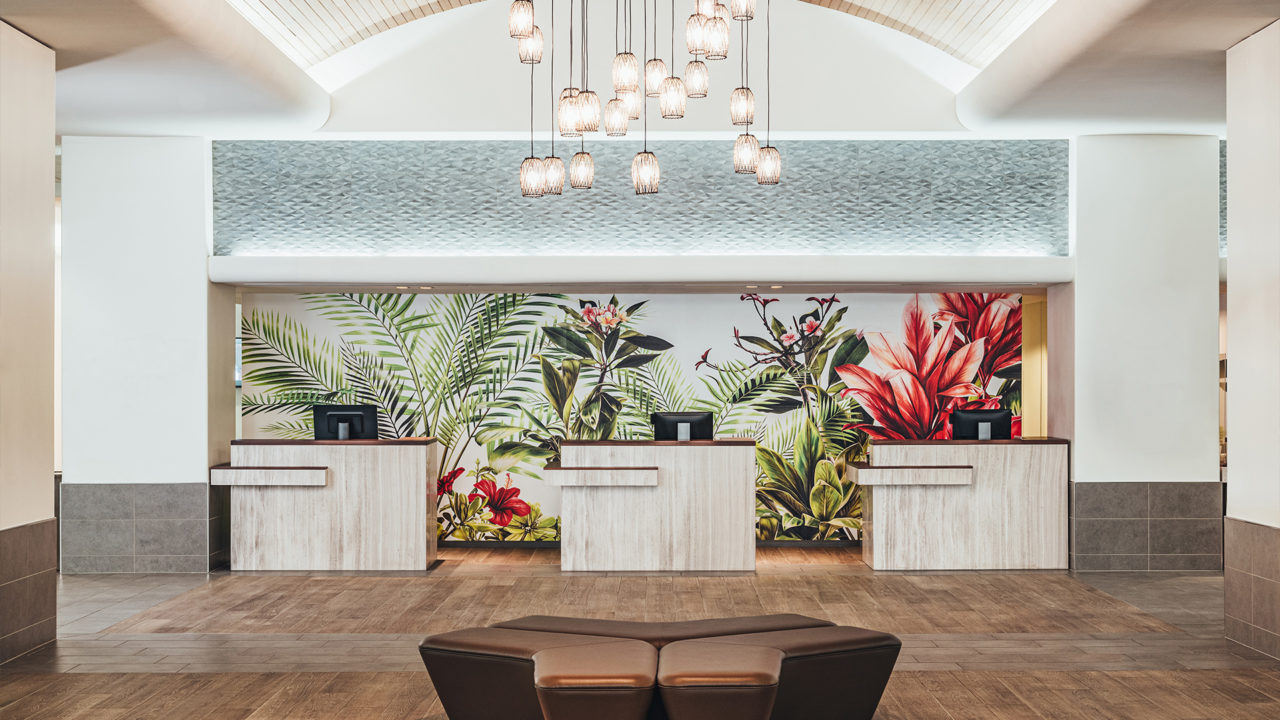 Hidden from the street view, the porte cochere and lobby entrance make a grand statement upon arrival. A clean and warm wood-slatted ceiling with alternating sloped bays and recessed lighting captures the eye and beckons guests into the newly renovated lobby. Stone-wrapped columns with recessed light accents add to the upscale feel, setting the stage for what's to come.
Upon entry, the wood barrel vaulted ceiling, large woven chandelier, new furniture and a 60-foot-long paneled mural painted by prominent local artist Kamea Hadar, welcomes guests. Vibrant, colorful and a little bit retro, the mural showcases the islands' vibrant flora and fauna from mauka (mountain) to makai (ocean), paying homage to the diversity of cultures within and beyond the hotel's walls.
Custom-designed reception pods made of wood and travertine stone provide a private check-in experience. Decorative hand-carved surfboards, walnut wooden screens and custom designed benches all crafted by local artisans add to the hotel's character and overall sense of place.
The contemporary design aesthetic extends to the newly renovated third floor pool deck, which transforms from day to night with its chaise lounge chairs, covered daybeds and fire pit lounge areas. Slatted wood screens with integral vegetation provide shade and privacy between double chaise groupings and provide for a quieter and more intimate lounging experience.