The new lounge was designed to serve a dual purpose as the main reception area for potential homeowners and also as the main lounge for The Howard Hughes Corporation when sales were complete.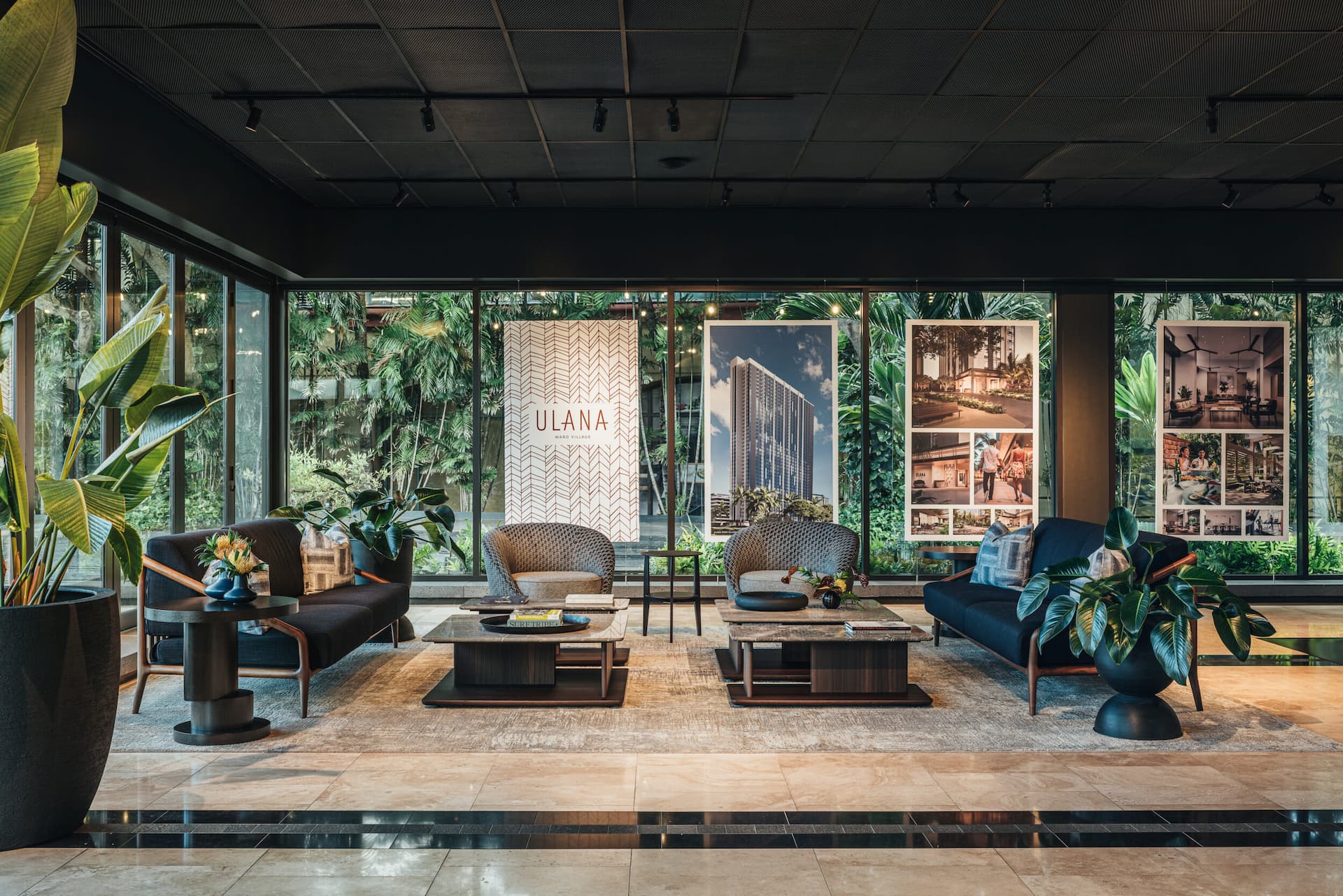 CLIENT: Howard Hughes Corporation
LOCATION: Honolulu, HI
BUILDING AREA: 3,500 SqFt.
COMPLETED: 2021
Situated in the heart of Honolulu, Ulana Ward Village is a 100% reserved residential offering in the highly coveted Kaka'ako area. Our team was tasked with designing the new tower's Sales Gallery, including space planning, finish and furniture selection, construction documents; construction administration; and furniture procurement and installation.
While initially conceptualized to be a stand-alone Sales Gallery, the project was relocated to The IBM Building in Ward Village due to the pandemic. Our team had to redesign the existing ground floor space in a way that not only captured the project's contemporary Hawaiian design but could also be repurposed for other project sales galleries in the future.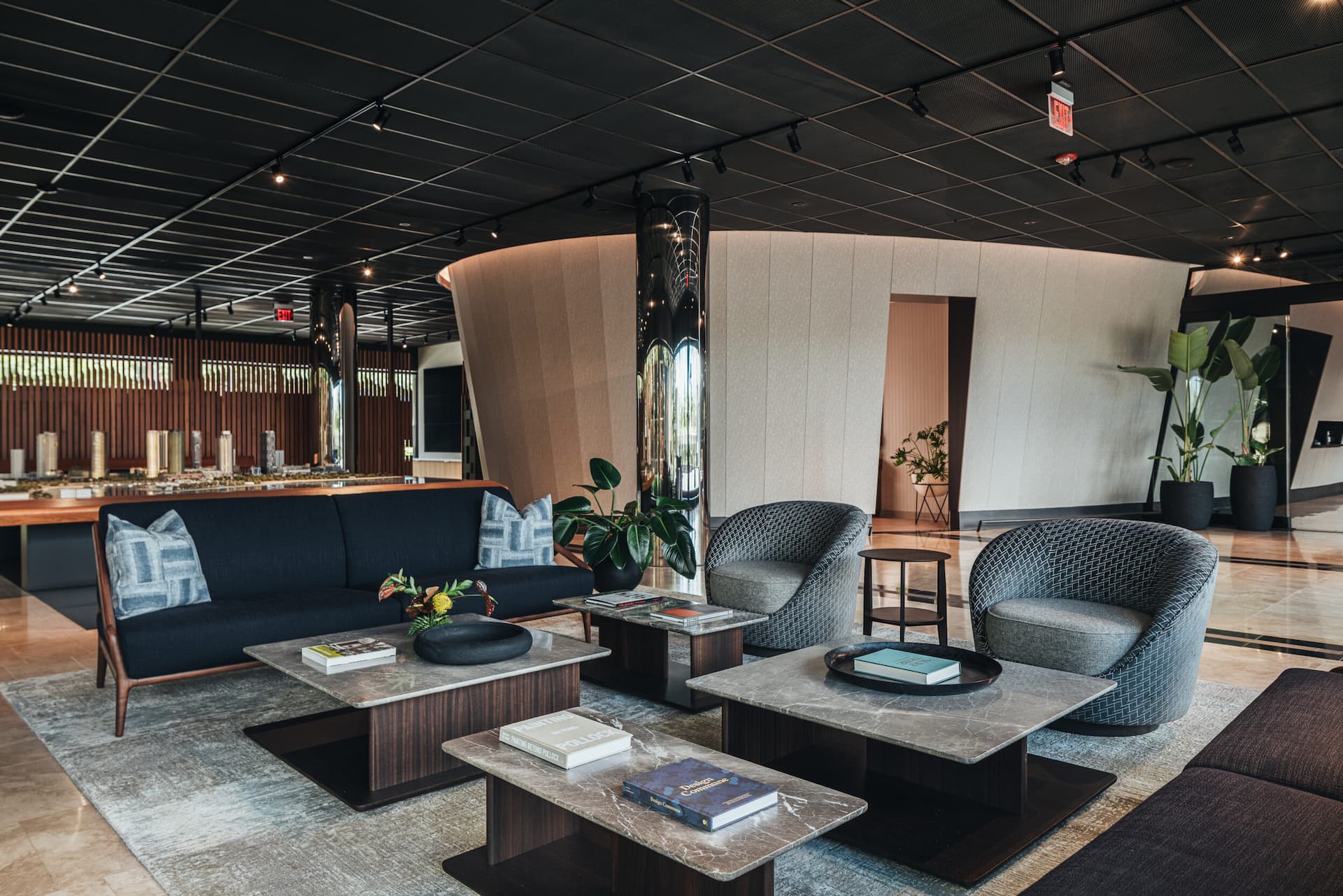 One of our biggest challenges was changing the overall look and feel of the ground-floor space within the existing footprint to capture the project's brand personality. The client wanted a space that was more contemporary and accessible. Elements included the sales floor, a lounge, a model kitchen, and renovated restroom.
Upon entering the building, guests are greeted by a curved nucleus with a paneled wall. We reimagined the space in line with the new design vision of the brand. Every panel had to be taken down, wrapped and re-installed, which was a multi-faceted process. To create the model kitchen, we had to gut and replace an existing theatre.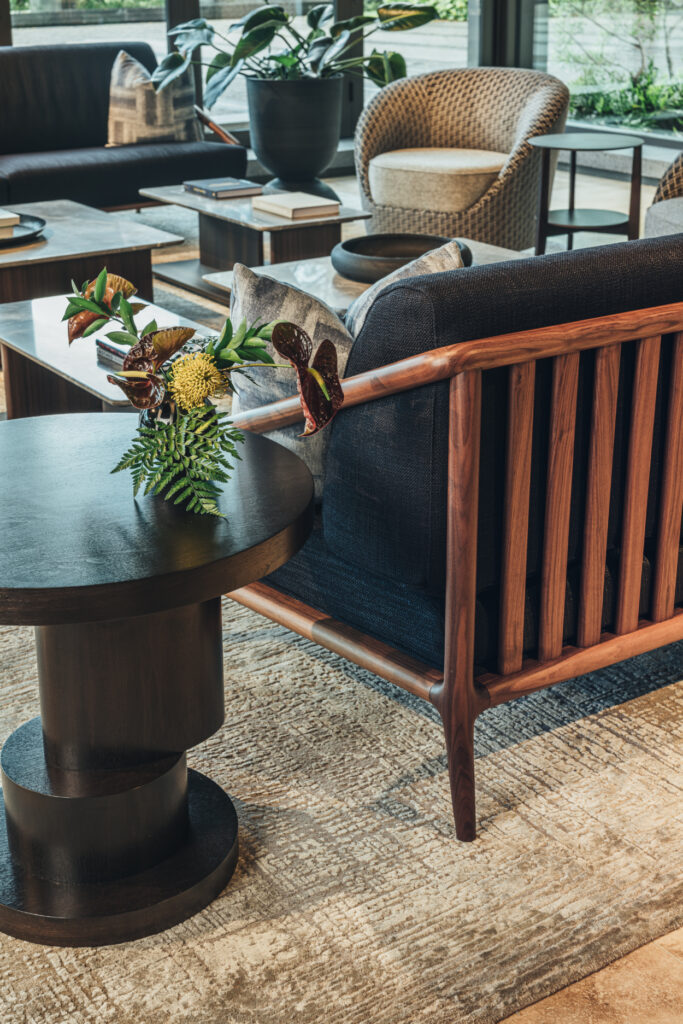 While initially conceptualized to be a stand-alone Sales Gallery, the project was relocated to an existing building due to the pandemic. Our goal was to modernize the space and reflect the new luxury brand.
We outfitted the sales floor with furniture from a variety of sources. Many of the pieces, including a mid-century design sofa, were procured in Italy. This came with a set of challenges as it was during the height of Covid. The factory was shut down for some time, and once the pieces were ready, we had to fly them in versus ocean shipping to meet the sales gallery's targeted opening.  There were also issues with a custom area rug that was sourced in India. Ultimately, we had to replace it locally.
While we had to keep the original configuration of the restroom, we used finishes, lighting and artwork to make it feel completely different than before. Gone is the previous nightclub vibe.
The end result was a dramatic transformation that supports the Ulana Ward Village brand.